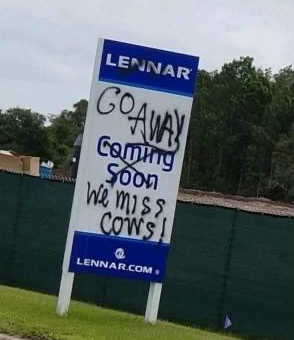 The developer who is looking to purchase Guajolote Ranch (~1000 acres) immediately adjacent to our neighborhoods northern border is proposing placing ~3000 new homes on that tract of land. Considering acreage required for the necessary infrastructure within the development, this would place between 4 and 5 homes per acre.
The following was presented to the SAWS Board during their November 2, 2021 meeting to present the options available to handle the sewage created from these ~3000 new homes. SAWS is to vote on the recommended option on January 11, 2022. Do you want to let them know your thoughts? Please send your comments to the SAWS Board directly. (template opposition letter linked at the end of this article)
The Scenic Loop – Helotes Creek Alliance has signed on with the Greater Edwards Aquifer Alliance (GEAA) in affirming our opposition to all sewer options except that of individual residential on-site septic systems.
Before detailing the options presented, we would like to remind you of the objective set forward during the establishment of the "Scenic Loop – Helotes Creek Alliance" (referred to below as SL-HCA) bylaws:
Maintain the status of the historic Scenic Loop Road from Hwy 16 (Bandera Rd) to Babcock Rd as a rural road.
Keep the native tree canopy intact, and protected from the spread of Oak Wilt.
Protect the visual, physical and aesthetic qualities of the existing Corridor.
Support protection of the region's historical and cultural integrity.
Support protection and preservation of the region's natural beauty and resources to include water, endemic, endangered species, viewshed and dark sky.
With that in mind, lets detail out each of the proposed options in order of our boards preference.
Our boards preference is in alignment with that of the Greater Edwards Aquifer Alliance (GEAA) and other environmental organizations; and is supported by scientific studies and reports.
Septic System (SL-HCA Preferred Option)
Aligns with all other residential on-site sewage facilities (OSSF) in the area including the neighboring Canyons of Scenic Loop and Cantera Hills neighborhoods.
Bexar County minimum land requirements for septic systems (on-site sewage facilities) is 0.5 acres.
This option would reduce the density of homes by nearly half, thus aligning more closely with the San Antonio North Sector Plan. Still there are concerns regarding adherence to the sector plan.

Goal UTI-6.1 – Enhance communication with all water purveyors and the City and Counties on the proposed expansions of Certificates of Convenience and Necessity (CCNs) for sewer and water that is consistent with the Sector Land Use Plan
Goal Hou-1.2 – Encourage compatible growth patterns and transitions of higher density residential along principal arterials and transit corridors that fit in with the existing residential character of the North Sector.
Goal Hou-1.6 – Support the efforts to designate, preserve and enhance existing and future neighborhood conservation districts within the North Sector.
Goal Hou-2.1 – Focus High Density Residential near activity centers.

This option would also make it the responsibility of each individual home owner to ensure their septic is maintained.
This option is also the recommendation of Greater Edwards Aquifer Alliance (GEAA).
This option best supports the SL-HCA objectives #2, #3 and #5 above.
On-Site Wastewater Treatment Plant
On-site Treatment Plant that discharges treated effluent on-site.
No CCN (certificate of convenience and necessity) for sewer exists in or around this parcel and requires acquisition approval from the Texas Public Utility Commission and the City of San Antonio.
Developer owned and maintained until development reaches some percentage of completion and then turned over to the neighborhoods HOA for ongoing long-term maintenance.
This option only partially supports SL-HCA objective #5 above. Due to the density of development dark skies and viewshed protections are difficult to impossible to preserve.
Multiple new Lift Stations
Three new sewage Lift Stations located on the parcel.
Three miles of new Force Mains and an additional two miles of gravity mains along Babcock Rd.
Lift Stations are prone to mechanical component failure and have a shorter operational life cycle before replacement is required.
This option does not align to any of our Alliance objectives.
Oversized Gravity Sewer Main
Nine miles of Off-site Gravity Sewer Mains Through the Scenic Loop – Helotes Creek Neighborhood.
SAWS oversizing sewage pipes to support additional developments in our neighborhood.
Proposal includes installation of sewage pipes along existing creeks.
Sewage pipes to traverse multiple properties and municipal parks that are supposed to be protected by their Edwards Aquifer Protection Program conservation agreements.
The creeks in our neighborhood have significant historical and aesthetic value that should not be encroached upon by our new neighbors to the north.
This option is in direct opposition to all of our Alliance objectives.
Below is a list of items to inquire about and consider as this development progresses:
Does the Bexar County / City of San Antonio planning departments still take the San Antonio North Sector Plan into consideration during platting? Innumerable deviations from the plan with this development.
What effect will 3000 new residential homes (~10,000) residents have on the rural roadways in the area?
When did AACOG / AAMPO / TxDOT reclassify Scenic Loop Rd from Hwy 16 to Babcock Rd from a RURAL/LOCAL roadway to a COLLECTOR roadway? And how can we get the classification reverted back to the more appropriate RURAL/LOCAL roadway?
Considering the topology of Guajolote Ranch, how does the developer (Lennar Homes) plan to place 3000 homes on this tract? Change the topology?
The creeks and dams in our neighborhood filled up with silt and TCEQ fines were issued to other developments north of our neighborhood. What will happen to our creeks and dams when the developer changes the topology of Guajolote Ranch?
Is the developer considering an alternate route to Hwy 16 (Bandera Rd)? And can they consider extending Babcock Rd extension to Hwy 16 to prevent traffic through our already congested neighborhood?
Timeline:
Resources: